Patient & Visitors information

What is our direct telephone number?
East side - 023 9228 6852 or 023 9228 6853
West side - 023 9228 6035 or 023 9228 6385
At Queen Alexandra Hospital, we have a new, purpose designed, high quality 24 bed Intensive Care Unit (ICU). We have a large team (over 140 staff) of experienced doctors, nurses and allied health professionals. We admit around 1400 patients each year and provide a service for approaching one million people.

This site will provide important information and act as a simple guide of what to expect. We appreciate that this is a very stressful time and that the information you are given can be overwhelming, or often forgotten at such anxious times. We hope that this site will be helpful to you. All of our staff are at hand to guide you through the experience, offering support and guidance as necessary.

We appreciate that many people play a significant role in our patients' life whether that be a relative, spouse, long term partners or very close friend. This site is aimed for all of these people. The term 'relative' is often used throughout this site to simplify text rather than exclude all of the other important individuals.

You are welcome to telephone to enquire about your relative at any time, day or night. We would much rather you phoned us if you are worrying and cannot sleep than be sat at home waiting for the morning. As you will appreciate, our telephone lines do become very busy at times, so we request that one or two people are nominated to telephone us and then relay the information to other family and friends. This will not only assist us in keeping the lines open but avoid any confusion in information given. Whilst we welcome your calls, please be aware that due to issues of confidentiality, we are unable to give out details of a sensitive nature over the telephone. We will discuss this more with you when you visit.

Initially visitors should be family or very close friends, particularly in cases where the patient is unable to indicate their own wishes.

Children are welcome to visit providing their parents feel that it would be beneficial. Please discuss this with the nurse in charge in advance. Whilst some children find it helpful to visit relatives on Intensive Care and are untroubled by all of the equipment and noise, others may find the experience upsetting. We will be able to provide support to the children but we rely on the parents to judge what your child would be happy with. Children will often express their own wishes if they know what to expect. We ask parents to be mindful of other patients and their relatives if children do visit.

We politely request that you restrict visitors to no more than two people at the bedside at any one time. This is due to the limited space provided.

We operate an 'open visiting' policy (24 hrs/day), although we do have to make sure that our patients receive enough periods of rest to improve recovery.

When you enter the unit you will be greeted by our reception staff between 8am - 7pm during the weekdays (8am to 5pm on Friday). After this time and on the weekend you are able to use an intercom system directly to the unit. You will be told if it is appropriate for you to enter the unit immediately or to stay in the waiting room. Your relative or friend will be located on the 'east' or 'west' side of the unit.

We understand that you will be worried and may have travelled some distance to see the person you are visiting. We will do our very best to make sure you see them as soon as possible after you arrive. Please be aware that there may be some delays in you seeing your relative or friend because of nursing or medical procedures. In this event. we will make sure that we try and keep you updated whenever possible with what is happening. When we first admit a patient to the Intensive Care Unit, it can take 1-2 hours for us to stabilise their condition and to provide the best possible care. Again, we will aim to update you and allow you to see them at the earliest opportunity.


What to expect on my first vist
The Intensive Care Unit comprises an 'East' and 'West' side with a total of 24 beds. We have fantastic facilties and experienced staff to provide the best possible care for your relative.

It is always daunting when you first visit an Intensive Care Unit as most people will not have experienced one before. There will be a dedicated nurse looking after your relative and a team of doctors led by a consultant who is always available. Continuous assessments of your relative will take place in addition to formal ward round several times a day. A number of other medical or surgical specialties may also be invited to offer their expertise.

When patients are first admitted to the Intensive Care Unit, they will require a period of assessment, stabilisation and individualised treatment plans. This takes time and it is not unusual for us to need 1-2 hours to do this thoroughly so that we can provide the highest quality of care that we demand of ourselves for your relative. We will try and keep you updated during this time and allow you to see them at the earliest opportunity. At subsequent visits, it is unlikely that you will have to wait for such a long period of time (sometimes up to 30 minutes) but again we must always ensure that we have the necessary time for nurses and doctors to provide care.

All patients are attached to a monitor that shows heart rhythm, pulse and blood pressure. They often receive oxygen from a facemask, or a ventilator (breathing machine) if they need help to breath. You will hear buzzers and see numbers flashing on monitors. Try not to be too unnerved by this. It is quite normal and act as an early prompt to the slightest change in the patients condition. The nurse at the bedside will explain all of the equipment when you visit if required.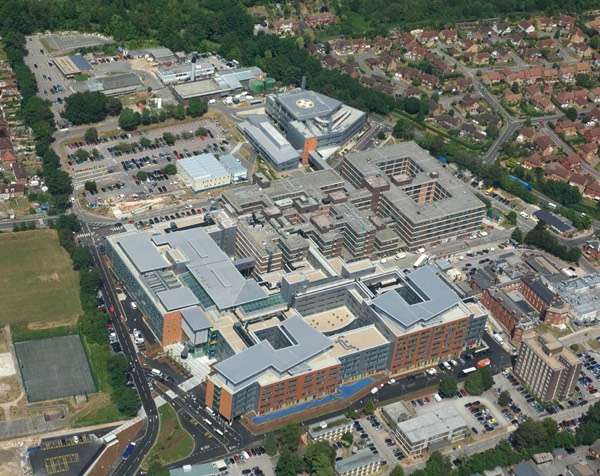 Aerial view of the Queen Alexandra Hospital